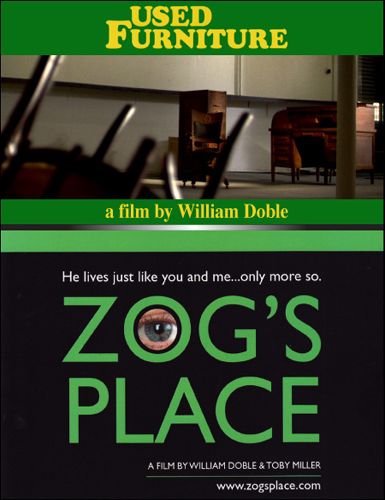 Short Films
2007 - "Used Furniture"
Directed and Produced by William Doble
Written by William Doble & Scott Suchman
Cinematography by Chris Bierlein
Visit the Lucky Star used furniture shop in Brooklyn, New York as it closes for good. Discover if Charlie 'the chair', Floyd the 'file cabinet' and Pauly 'the desk' can avoid the horrible fate that Junior, the store keeper is preparing. Watch as a trio of antique wood fight their way to freedom.
Cast
male customer Seth Herzog
junior Joshua Sidis
charlie the chair Adam LeFevre
sid the postman Adam Stein
floyd the file cabinet Isiah Whitlock Jr.
pauly the desk Jeremy Brisiel
timmy the broken chair Jon DeVries
female customer Alexandra Donhoeffner
2001 - "Zog's Place"
A film by William Doble and Toby Miller
Zog's Place documents the extraordinary living situation of New Yorker Seth "The Zog" Herzog. In a 12' x 5' apartment, Seth lives among a breathtaking amount of personal memorabilia that gives new meaning to the word clutter.Zog's Place expands the boundaries of American normalcy as it captures one man's attempt to literally "keep it all balanced."
Starring Seth "The Zog" Herzog
Commentary by:
Michael Showalter
Mr. Blue
Jonathan Marc Sherman
Kera Greene
Rich Webb
Audrey Lavine